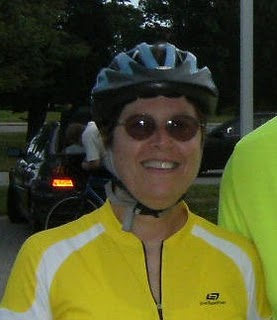 Gail E. Robillard is a 58 year young single (that has never been married-lol) who will be joining Bike Delaware's Board of Directors as Treasurer for 2011. Gail worked in the commercial/residential construction industry, as well as property management, doing cost accounting for most of her career. Currently, Gail is working in property management, in conjunction with her own massage business. For the past ten years she has been nationally and state certified as a therapeutic massage therapist. Gail bought her first bike, a hybrid Fugi-Supreme in June 2005 when her boss suggested she should get a bike and start riding. Needless to say she fell in love.
Gail started attending every riding event she could find. The following year she graduated to her road bike, a Cannondale 6-13 with clipless pedals. Her 3rd time out on the bike she fell and broke her hand, wrist, and elbow but that did not stop her from riding. She went back to riding the hybrid; fondly know as the Silver Fox, for the season. The following year (2008) Gail hooked up with the White Clay Bicycle Club weekly rides and improved her endurance greatly. After such a successful year she wanted to give something back so Gail became a member of WCBC. Soon after that she became a rider leader and starting leading rides for beginners in North Wilmington on Tuesday's and Thursday's. It was at the WCBC Banquet that she learned about Bike DE and the work they were doing. Her passion is safety education not only for motorist but also for the cyclist so she jumped aboard to help. Two other areas that she will be focusing on is the 3' passing law and getting bike racks in as many retail locations as possible.
Currently Gail is sitting on the board for Heathergreen Commons Condominiums, is a Trail Steward for Delaware Greenways, and is active with WCBC as a Ride Leader and Registration volunteer for all their events. Last, but not least, her current steed is a custom Gunnar Roadie!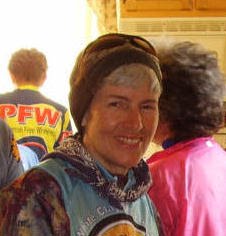 To make room for Gail, Carol Ireland will be leaving Treasurer and moving over to Secretary, a position previously held by Maria Ruocco for 2 years (2009-10). We extend a warm round of kudos to Carol for a superb job in the role as Bike Delaware's budget keeper over the last 2 years, as well as leading fundraising efforts.
Best wishes to both in their new role on Bike Delaware's board of Directors for 2011!