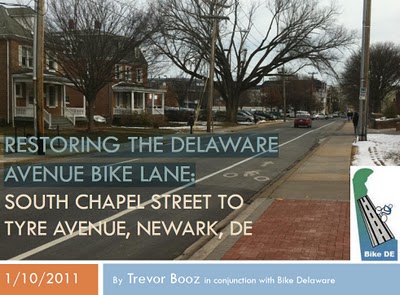 An occasional problem for years in Delaware has been the sudden loss of bike lanes or other facilities with construction projects. Fortunately, this is largely relegated to the past now for several great reasons:
Few, if any other state's advocacy groups have this kind of support infrastructure, or can make this claim. And, as one such organization, Bike Delaware has very much to be thankful for.
Delaware Avenue in Newark, between Chapel Street and Tyre Ave, however, remains one of our few connections to this bygone era. Trevor Booz, Graduate Research Assistant with the University of Delaware's Civil Engineering Department, put together this superb presentation on how DelDOT and the City of Newark can restore a lost and dangerous bike lane – and thus greatly increase bicycle safety – at minimal cost.

View Larger Map
A virtual tour of Delaware Ave. The images were taken before the installation of a new, much larger pork chop at Chapel Street SE corner, however, the invitation for drivers to "right hook" a bicyclist into the Courtyard Apartments is quite obvious. Marked bike lanes at one time extended through Chapel Street and this portion of Delaware Avenue.
The new pork chop at the SE corner of Chapel. Sitting right in the former bike lane, the white shoulder line is faintly visible at the left edge.