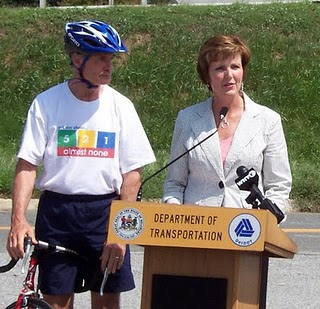 According to recent headlines in the Wilmington News Journal, the Delaware Department of Transportation will be undergoing reforms, including staff changes at the director level. As our members and constituents may or may not know, DelDOT Planning is our closest partner in all matters of bicycling and advocacy. Our statewide Bicycle Coordinator and main contact, Anthony Aglio, is an employee in this department. Ralph Reeb, Director, has also been very supportive of our cause, including help in getting the New Castle Industrial Track Rail Trail off the ground.
What this means for Bike Delaware is uncertain at this time. We do not believe there will be much impact beyond losing a friend and ally in a key position. To that end, we strongly urge DelDOT to embrace the seriousness of non-motorized transportation in the interviewing and hiring of replacement personnel for those that are let go.
While some very unpopular decisions were made in the area of real estate acquisition – the cause of the shakeup – we can still thank Ralph for many years of support in walking and bicycling projects. We wish his department the best in these difficult times, and hope they emerge stronger and more capable than ever.