Most bicyclists view Delaware City as a great destination town; a place to relax near the water, eat lunch on the deck at Crabby Dicks, have dessert at the Ice Cream Parlor. It's also a great place to enjoy multiple annual events, including Delaware City Day, the Music in the Park Series, and Canal Fest. Looking to 2011, Main Street Delaware City has hired Delaware Greenways under the direction of Mark Chura to serve as Program Manager. With his assistance, they are planning to make 2011 a "year of action", including:
*    Being an integral part of the "Scenic Route 9" plan, including an eco-tourism initiative.
*    Finishing the Sterling Building, and filling it with a new restaurant, store, gallery, museum or other use.
*    Efforts to bring new businesses into town, and laying out plans to enhance the downtown with planters and banners.
Bike Delaware can't help wondering – why not make a Bicycle Friendly Communities award the centerpiece of Delaware City's eco-tourism campaign? Imagine the benefits, including national recognition in LAB's "Bicyclist" magazine, which grabs the attention of millions across the U.S.
What does the town currently have going for it?
*    A Master Plan (pdf), which includes a coordinated effort to make Delaware City more bicycle and pedestrian-friendly, including the establishment of bike routes on underutilized rights-of-way and an assessment of the city's existing crosswalks and sidewalks.
*    The Canal Promenade, a bicycle/pedestrian path along the Branch Canal with a planned connection to the C&D Canal path (started in 2008), which is 50% complete.
*    Plenty of downtown green space, with an existing network of multi-use pathways, restrooms (Fort Delaware), and off street bike parking that already has Delaware City on its way toward bike-friendliness.
*    Township roads that are lightly traveled, plenty wide, and readily adaptable to biking and walking.
*    Clinton Avenue, the town's Main Street, is perfectly suited for Sharrows.
The Bicycle Friendly Communities Program (BFC) provides incentives, hands-on assistance, and award recognition for communities that actively support bicycling. A Bicycle Friendly Community welcomes cyclists by providing safe accommodation for cycling and encouraging people to bike for transportation and recreation. We hope Delaware City considers this prestigious award designation. View an overview presentation of the program. Read the BFA 2010 report. Current Bicycle Friendly Community Master List (PDF). See the list of communities that received Honorable Mentions in 2010 and 2009.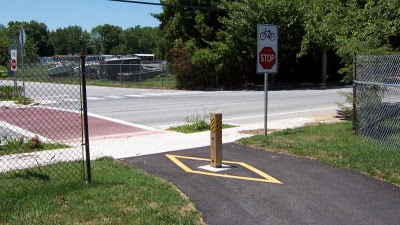 A completed section of the the Canal Promenade, at Route 9, just north of the Reedy Point Bridge. This multi-use path will eventually tie in with the future C&D Canal Path.