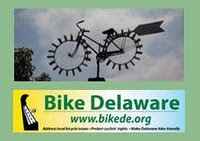 Weather permitting, Bike Delaware's Annual Meeting will be Tuesday night, Feb 1, at 6 pm at Wilmapco on Library Ave in Newark. After the business portion of the meeting, we will feature our 2010 Year in Review presentation. Then we will hear from Anthony Aglio, who will speak to us regarding the new Proposed AASHTO Guidance, the guide that DOT planners and engineers are normally commanded to follow. Among the topics covered will be the benefits of having municipalities take ownership of their Main Streets, which could allow many more options for providing bike facilities.
Please stay tuned between now and mid-day 2/1 for updates and/or postponement info should the weather dictate.
Agenda as follows:
6:00 Treasurer's report
6:05 Board slate for re-election
6:10 Review 2011 goals
6:20 Project updates
Maps (Caroline, anything you want us to report on)
Executive Director interviews
6:40 Membership fees
6:50 Year in review presentation
7:00 Guest speaker – Anthony Aglio
7:25 Old Business/New Business
7:30 Meeting adjourned

Meeting Location
WILMAPCO (Map) 850 Library Ave, Suite 100, Newark, DE.