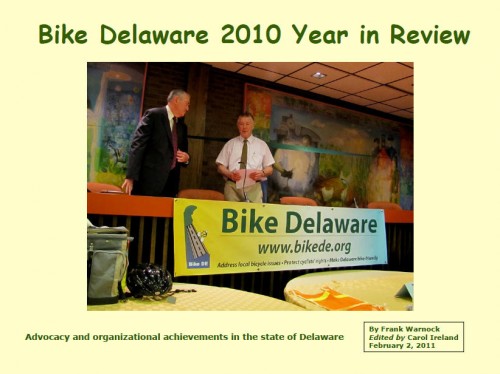 Bike Delaware's 2011 Annual Meeting was well attended on Tues, Feb. 1. It included a slide show presentation (pdf). In it was:
*  Bike Delaware's Incorporation
*  Multiple position statements and projects
*  Delaware Bicycle-Friendly Achievements
*  Newark and the State take LAB's Bronze
*  Our 2010 goals, hit or miss
*  Our 2011 Goals
There is little doubt that 2010 was our best year ever. Not just for Bike Delaware, but bike advocacy in general. There were a number of players in these achievements, including the Delaware Bicycle Council, Wilmapco, and DelDOT among others. Without their participation, much this would not have been possible. A warm round of kudos to all involved.
Minutes from the meeting in pdf HERE.