The Department of Transportation (DelDOT) will be holding a public workshop to receive public input on the proposed realignment of the Plantation Road/Cedar Grove Road/Postal Lane intersection. The workshop will be held on Wednesday, February 9, 2011 in the Cape Henlopen High School cafeteria, located at 1250 Kings Highway in Lewes (map). The public is invited to attend any time between 4:00 p.m. to 7:00 p.m.
The project would allow for the realignment of these roadways to provide a correct perpendicular intersection. This safety project will also widen the intersection to provide for separate turn lanes in each direction. Bicycle lanes and some sidewalks will be provided within the project limits.
Attendees will have an opportunity to review display materials and provide comments to DelDOT representatives. Interested persons are invited to express their views in writing, giving reasons for support of or in opposition to, the proposed project. Comments will be received during the workshop or can be mailed to DelDOT Public Relations, P.O. Box 778, Dover, DE 19903.
This location is accessible to persons having disabilities. Any person having special needs or requiring special aid, such as an interpreter for the hearing impaired, is requested to contact DelDOT by phone or mail one week in advance. For further information contact Public Relations at 1-800-652-5600 (in DE) or 302-760-2080 or write to the above address. Go to the press release HERE.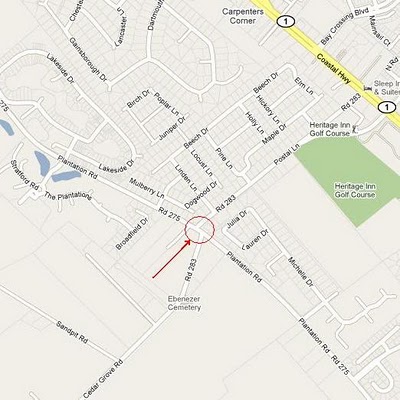 The intersection of Plantation Road/Cedar Grove Road/Postal Lane circled above. Its parallel alignment with Route 1 has it a much preferred alternative for recreational and commuting bicyclists. Plans to add dedicated right turn-only lanes reduce safety for the non-motorized. If they cannot be defeated, we must ensure that bike & ped facilities are planned and carefully implemented.