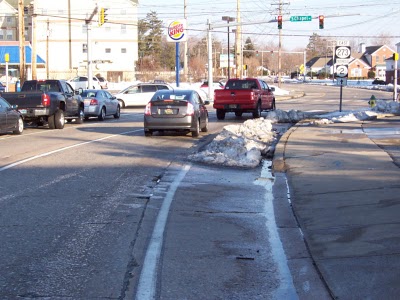 At 4.7% bicycle mode share, Newark ranks among the highest in the U.S. That and their recent award as a Bicycle Friendly Community (Bronze, BFC) should see at least some effort made to keep the city's main bike lanes and popular shoulder routes reasonably clear of snow. But, as seen in this photo weeks after a recent storm, that doesn't appear to be the case. And it doesn't bode well for UD students just returning from Winter Break.
"I am very disappointed" said Tom Motz, of the 1000 block of S. Chapel Street Ext and a frequent patron of the Home Grown Cafe among others on his bike. "The piles completely block the bike lane. I know it's difficult and you don't want to push it up on the sidewalk either, but they could leave at least a few feet behind the white line so bikes can stay out of the traffic lanes. This is asking for a road rage incident".
That said, we commend Charlie Emerson and his Public Works Department for a superb job in clearing snow on the city's off road facilities. The James F. Hall Trail is viewed as the model of bike path maintenance, landscaping, and clearing of all hazards from tree limbs to several feet of snow.
Now we must convince Newark that its on-road facilities deserve equal (or at least some) attention.