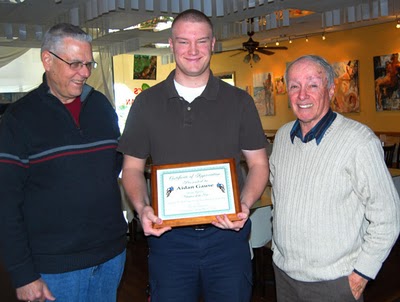 Sussex Cyclists, a local cycling nonprofit organization that promotes cycling activity and safety primarily in Coastal Sussex County, honored Sussex Tech High School junior Aidan Gause as the club's 2010 Volunteer or the Year. He was recognized for his dedication and tireless efforts at Sussex Cyclists' Bicycle Safety Check Points. The program, often referred to as bicycle "pit stops," sets up stations in the resort area during June and July offering assistance and safety items-helmets, lights, brochures and minor repairs-to seasonal cyclist commuters as well as locals and visitors. Sussex Cyclists has conducted the program for more than seven years with support from the Delaware Department of Transportation, the State Police, grants from County Council and the Transportation Management Association and local businesses.
At a lunch meeting, Saturday January 29, with Sussex Cyclists Vice President Joe Juknelis and long-time members Jack Boettger (club treasurer) and Mike Tyler (advocacy chairman), Aidan was awarded a framed certificate recognizing his work. He also received a Sussex Cyclists logo shirt and a personal letter congratulating him for his active role in the "pit stop" program from club President Tony Pezone who was unable to attend. Pezone praised Aidan's efforts: "Your service and dedication to our Bike Safety Program has contributed to the success of the program over the years in a very important way. We look forward to more years together in the future."
Aidan is an active cadet fire fighter member of the Lewes Fire Department. He is studying criminal justice at Sussex Tech and plans attend the University of Delaware with a goal of becoming a Delaware Fish and Wildlife Department officer. The best of luck to Aidan on these endeavors!