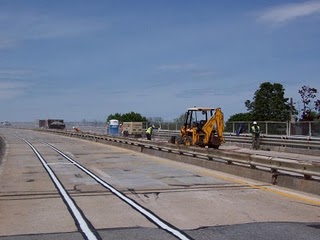 Spring is coming!! I can tell by the weather reports and by watching the bright yellow hazard jackets of the DelDot crews buzzing around to make our roads safer for cars and bikes. Whether they are simply patching those nasty potholes that wreck your tires or sweeping the shoulders of the roads it is greatly appreciated by all.
The good old St. Georges Bridge received a thorough cleaning yesterday (Feb. 16). DelDot was out picking up junk off the bridge and sweeping the bicycle lanes. They came back once again and swept the driving lanes. Please use caution on the approaches and exits as there are new cracks and potholes the crews will be working on.
A huge thank you is past due to all of the people and agencies involved in getting a segregated bicycle lane on the St. Georges Bridge. Now is the time for all cyclists that have not considered crossing the canal by this bridge to do so. Beginners – don't let the height of the bridge deter you. It is not as steep as it looks, and is OK to stop to catch your breath. (Just call out your intention of stopping.) Now go home and check that off your list of bicycle accomplishments! For seasoned riders this will just be another bump in the road, but now a pleasant one.
I appreciate the fact that this bridge cleaning was completed in a time of budget cuts and restraints on spending. I get really excited when I see a project like this undertaken with our tax dollars. It takes the sting out of the cost of some of the projects that we don't "see". While I am not politically alert on the budgetary process for setting aside money for sweeping, road markings, etc, this web site and others can point us in the right direction for action if we are shown the way.
Please remember to slow down, give plenty of room for all emergency, safety and construction workers when passing in your car or on the bike. Again, my greatest appreciation to DelDOT for making my next ride, and that of fellow cyclists that little bit safer. Remember DelDOT is working for us even if we don't agree to everything they do.
— Barbara A. Gillespie, Bike Delaware member and contributor