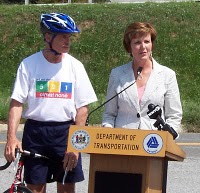 Dover — It is with great consideration, that Delaware Department of Transportation (DelDOT) Secretary Carolann Wicks has resigned her position as Cabinet Secretary effective March 18, 2011.
"This has been a difficult decision, but one that has been made with a clear conscience and the best interest of the department at heart." Secretary Wicks stated. "I have greatly enjoyed the many years I have served the State of Delaware, from an engineer just out of college to my position of leadership in one of the most hardworking agencies in the State of Delaware. The opportunities I have experienced in my years at DelDOT will always be looked upon with sincere gratitude. But, as with many other retirees, I will now move on to the next chapter in my life, including spending more time with my family."
Carolann Wicks is the eighth Secretary of the Department of Transportation. Carolann began her long career at DelDOT more than 28 years ago as a Civil Engineer. She served in several leadership roles including the Chief Engineer for the department and Director of Transportation Solutions. As Secretary, she was responsible for the capital program, managing statewide transit services, motor vehicle services, and the maintenance and operation of 90 percent of Delaware's transportation system. DelDOT employs over 2600 transportation professionals to achieve these goals. (read the entire press release HERE). Article in the Wilmington News Journal HERE.
[Side note: For Delaware bicycle advocates, Carolann was a friend and ally who supported a number of bicycle and pedestrian projects when called upon. Without her over-riding support in the face of director level opposition, we would likely not have the Saint Georges Bridge bike lanes.]