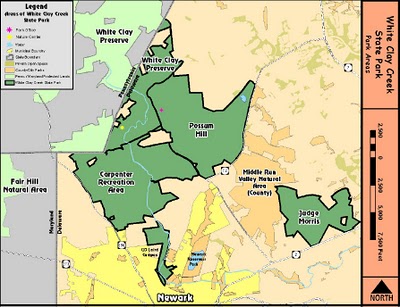 The White Clay Creek State Park Trail Plan looks at the existing 40-mile trail system in the park today and proposes changes that result in increased recreational [and transportational] trail opportunities, creates connections Newark communities, and reduces habitat fragmentation. Existing trail conditions, natural and cultural resources, and recreation demand and trends were evaluated to propose new trail segments. The Trail Plan was developed with the full involvement of Division of Parks and Recreation's Trail Committee with public participation.
In the Spring and Summer of 2010, meetings were held with stakeholder organizations to present an early version of the proposed Trail Plan. Meetings were held with the following groups: Park and Recreation Council; Council on Greenways and Trails; Friends of White Clay Creek State Park Executive Committee and Advisory Board; Wilmington Trail Club Board; an alliance of running clubs that include the Pike Creek Running Club and Trail Dawgs; Delaware Trail Spinners; Newark Bicycle Council; Bi-State Preserve Council; and Equine Council Trail Committee members. In addition meetings were held with staff from Pennsylvania State Parks, New Castle County Special Services, City of Newark Parks & Recreation Department, and the Wilmington Area Planning Council (WILMAPCO). Input from all organizations and agencies was valuable in shaping the proposed plan that is presented for public review.
Now, it's up to us to participate by simply commenting, and letting State Parks know we're actively involved. It is important to note that there is a relatively small, but fiercely vocal opposition that would like to see bikes relegated or banned from park trails altogether – so the importance of this cannot be stressed enough.
Comments on the proposed White Clay Creek State Park Trail Plan will be received through March 25, 2011, and can be emailed directly to Susan Moerschel at: Susan.Moerschel@state.de.us.
Be sure to visit the the plan home page HERE, which includes links to the complete proposal for your review. A comment form can also be downloaded, and a mailing address is provided.