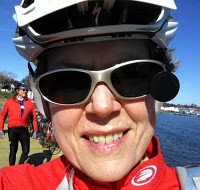 Recent events in the Middle East remind us of our vulnerability to increases in oil prices. Creditable sources believe the world is at, near, or past its maximum flow rate of oil production; some predict a global shortfall in oil supply of about 10% as soon as 2015.
As fossil fuels become more scarce and expensive, it will be ever more critical for citizens to be able to use bicycles for transport. The total amount of vehicle miles driven in Delaware is likely to fall as fuel prices increase, and need for safe walking and bicycling routes will increase in importance. The more we prepare for non fossil fuel based transportation ahead of the price increases, the less traumatic the impact of price increases will be.
I fully support proposals to allocate 3% of Delaware's transportation dollars for walking and bicycling.
Sarah Buttner
Energy Transition Consultant
Member, White Clay Bicycle Club