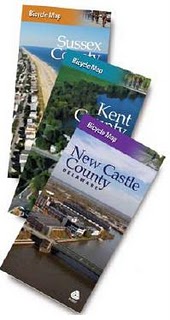 By Jeff Riegner

As DelDOT is preparing minor updates of its bike maps this spring, Delaware bicyclists were asked to provide comments on what should be changed. Many of you responded; thank you! As DelDOT has reviewed the comments, there are a few questions about how specific areas should be handled, so we would like to ask for your input one more time.
We will hold a meeting on Monday, March 28 from 6:30 to 8:30 pm at WILMAPCO, 850 Library Avenue in Newark (directions). The purpose of this meeting will be to present the received comments to date on the New Castle County map and ask for your help in resolving issues we are struggling with resulting from these comments. Most of the New Castle County comments we received were for the Newark area, so that will form the bulk of the discussion. A couple of ground rules will be in place: namely, the general format of the maps will remain as-is, and we're not soliciting additional comments. We just want to make sure that in the areas/routes where we have received comments and are considering changes, all questions are addressed.
Please consider attending this meeting so we can have a good turnout. DelDOT plans to have new bike maps printed before Memorial Day.
Thanks for your support for bicycling in Delaware!
Jeffrey R. Riegner
Chair, Newark Bicycle Committee
VP, Whitman, Requardt & Associates, LLP