April 14: Bike Lane Working Group
A Bike Lane Working Group will meet on Thursday, April 14th at 6 pm at WILMAPCO, 850 Library Avenue in Newark (map), to discuss the challenge that right turn-only lanes present to bicycling. DelDOT recently made a formal response to Bike Lanes at Intersections with Right Turn-Only Lanes (which was produced with the help of an earlier Working Group). The Bike Lane Working Group is a mix of professionals and citizen cyclists. It is an ad hoc collaboration that offers an opportunity for informal discussion and sharing of knowledge, perspectives and experiences related to bike lanes.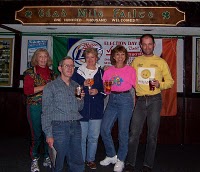 Bike Delaware's 1st Annual "Cycling Season Opener"
is our
founding membership drive and gala. (Anyone who attends on March 22 is a founding member of Bike Delaware.) Admission is $30 at the door. Join us as we kick off the 2011 Cycling Season in style. Takes place
Tuesday, March 22, 5:30 – 8pm
, at the Delaware Center for Horticulture, 1810 N. DuPont Street, Wilmington, DE 19806
(
map
)
. If riding in, convenient bike parking is available but do bring a lock. Plenty of car parking also available nearby. Full details HERE!