Bike Lane Working Group Will Meet April 14 in Newark

Bike Delaware has received an official response from DelDOT concerning the issue of bicycle safety through intersections with right turn only lanes (RTOLs). In most cases where RTOLs exist, there is insufficient width in the right of way (ROW) to provide a delineated bike lane. Previous work by a Bike Delaware bike lane working group suggested some possible approaches to this difficult problem, including "pocket" bike lanes.
Though DelDOT has not embraced our earlier suggestions, we are encouraged that they acknowledge the problem that the RTOL presents for bicycling in Delaware. The Traffic Department has offered to collaborate with us to find a solution, one that will improve bicyclist safety and facilitate our use of the current road system.
We consider this a historic opportunity for a few reasons:
1) It is the first time DelDOT has offered treatments "outside the box". In other words, they are reaching out to us by offering to work toward a solution that is not specifically addressed in the MUTCD or AASHTO bicycle facilities guide, but offered in others such as NACTO.
2) There could be national significance. Few, if any states have addressed this issue outside the urban environment. It will be a pioneering effort, another "First" for the 1st State.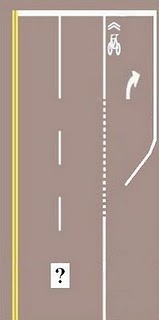 3) Our ranking as a Bicycle Friendly State will likely improve.
Most importantly, it would put a be a hugely valuable tool for Anthony Aglio, (DelDOT's Bicycle Coordinator): the ability to add bike lanes and safety enhancements where currently they are refused due to lane width restrictions. A recent example is Polly Drummond Road, a high bike/ped volume corridor.
Please consider joining us at our April 14 Bike Lane Working Group meeting, at 6PM at WILMAPCO, 850 Library Avenue in Newark. Mark Luszcz, DelDOT Assistant Chief Traffic Engineer, will speak to us and take questions so we can begin a path forward. As always, pizza and refreshments provided!
Above: A Sharrow (aka "share arrow"), used here within a right turn-only lane, is one idea. However, their use is limited to roads with speed limits of 35 mph or less. Other possibilities can be explored.