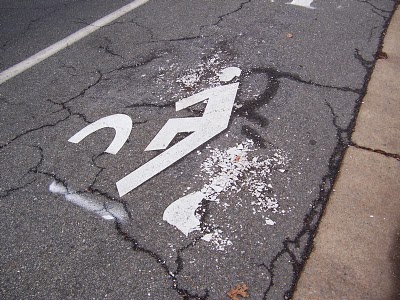 For those who have been asking and wondering, failed bicycle symbols installed in the Newark vicinity last Fall will be replaced under warranty. DelDOT has acknowledged the error, has notified the contractor, and promises to follow through on replacement markings. Typically, on all "short line" applications – which also includes turn arrows, crosswalks, stop lines, etc – the finished product should last at least 3-5 years.
A tip of the helmet to Anthony Aglio for a timely response, and taking immediate action as always.
Learn all about road surface markings, including a complete history on Wikipedia HERE.