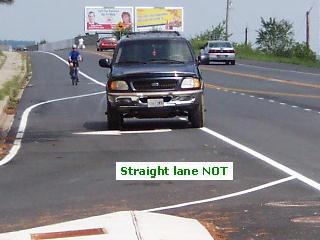 A Bike Lane Working Group meeting has been scheduled for Thursday, April 14th at 6 pm.

The Bike Lane Working Group is a mix of professionals and citizen cyclists. It is an ad hoc collaboration that offers an opportunity for informal discussion and sharing of knowledge, perspectives and experiences related to bike lanes. The focus of the April 14 meeting will be right turn only lanes (RTOLs) and the challenge they present to bicycling on road shoulders. Mark Luszcz, DelDOT's Assistant Chief Traffic Engineer, will attend and answer questions regarding DelDOT's formal response to Bike Lanes at Intersections with Right Turn-Only Lanes. The Working Group will attemp to identify a path forward on the issue of bicyclist safety when riding through RTOLs.
All are welcome. If you represent a bicycle club or have an interest otherwise, you are strongly urged to participate.
Start time will be 6 pm, WILMAPCO, 850 Library Ave Suite 100, Newark, DE (map). Location information can also be found HERE. As always, pizza and refreshments provided!