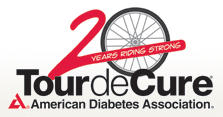 Bike Delaware welcomes the American Diabetes Association as our latest constituent!
Register today to Take the Ride of Your Life! The Tour de Cure features routes of different lengths for riders of all skill levels. There's something for everyone from a leisurely short distance to a more challenging length. Either way, Tour de Cure is a ride, not a race, so take it at your own speed and enjoy the journey. All Tour de Cure routes are safe and fully supported with route marshals, SAG vehicles, mechanical support, and rest stops stocked with hydration and a variety of snacks to keep you fueled. At the finish, you will be welcomed with cheering volunteers, great food and more.
Tour de Cure is marking its 20th Anniversary this year. In twenty years it's raised millions of dollars to fund research, provide services, and give voice to those denied their rights because of diabetes. Much has been accompished, but as the number of Americans diagnosed with diabetes continues to rise, the mission of the American Diabetes Association becomes even more critical. Every dollar you raise and every mile you ride helps the ADA in the effort to Stop Diabetes.
May 14, 2011
Start Location: Newark, Delaware
Event Manager: Carl Colantuono
Email: ccolantuono@diabetes.org
For more information, call 1-888-DIABETES, x4651 or Contact Us.
Event website HERE. Pre-register on Active.com HERE.