The Bike Lane Working Group is a mix of professionals and citizen cyclists. It is an ad hoc collaboration that offers an opportunity for informal discussion and sharing of knowledge, perspectives and experiences related to bike lanes.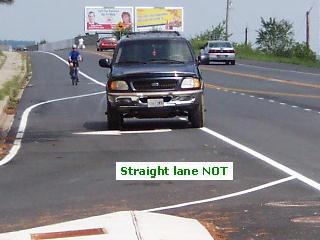 The Bike Lane Working Group will meet on Thursday, April 14th, from 6 – 8 pm with DelDOT's Assistant Chief Traffic Engineer and others to figure out how to solve the right turn only lane problem.
All are welcome. You do not need to be an engineer or planner to attend. We will lay out the basics of the problem so that anyone can productively participate in the conversation. All that is required is an open mind, an ability to listen and a desire to figure out a solution to this problem.
If you are interested in preparing a little beforehand, you can check out the references below. (But these will all be explained at the meeting, so it's not necessary to read them ahead of time.)
• DelDOT's March 16, 2011 statement on the problem
• The Dutch approach
Start time will be 6 pm, WILMAPCO, 850 Library Ave Suite 100, Newark, DE (map). Location information can also be found HERE.
As always, pizza and refreshments provided!