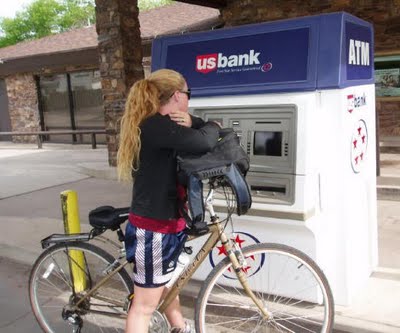 By John McCormick, WCBC past president
Yesterday, while running errands on the bike, I stopped at the drive-thru window at our local branch bank to cash a check. I was refused service at the window because it was deemed "unsafe" by the teller. So, I walked into the lobby with my bike and cashed the check, and then asked to speak to the manager. We had a pleasant discussion about the bank's drive-thru "policy". Their "policy" stated that no walk-ups (pedestrians) were to be served at the window, but it didn't address cyclists. However, the manager told me that she supported the teller's decision not to service cyclists due to safety concerns. We then had a discussion about how bicycles and vehicles can co-exist peacefully, and oh, by the way, the law views bicycles as vehicles. Yada, yada, to make a long story short, I asked the branch manager to kindly clarify their "policy" with headquarters and to please get back to me within a week, since I really wanted clarification on this issue. To my surprise and delight, I got a call this afternoon indicating that bicyclists can use the bank's drive-thru windows.
This small victory was the highlight of an otherwise dreary cycling day.