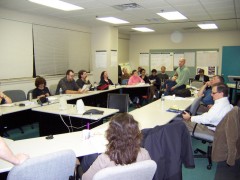 In Delaware, most DelDOT identified bicycle "routes" consist of roads with shoulders. Although road shoulders were not designed for bicycling, bicyclists have in effect inherited this infrastructure though it was originally designed for other purposes. Because it was not originally designed with bicycling in mind, however, shoulders on high speed roads typically disappear at intersections, where the right-of-way is used for right turn only lanes (RTOLs) instead. For the current population of road cyclists, the RTOL is the biggest obstacle to the use of road shoulders for bicycling.
Mark Luszcz, Assistant Chief Traffic Engineer at DelDOT, and Heather Dunigan and Dave Gula from WILMAPCO, met with representatives from Bike Delaware, Delaware Bicycle Council, Delaware Greenways, Sussex Cyclists, White Clay Bicycle Club, Wilmington Ski Club, and the Wilmington Bicycle Advisory Committee to discuss the problem of bicycling through RTOLs. The focus of the discussion was on identifying safe, practical, zero cost treatments that could be implemented as part of DelDOT's routine pave and rehab operations – as well as retrofits. In addition, the Working Group briefly discussed some of the legal aspects of bicycling in (and around) RTOLs, as the vehicle code is being revisited by the DBC and may require change as it relates to this problem.
In all, two zero cost (paint) options were identified:
1) Modifying or eliminating the solid taper line that currently divides RTOLs from shoulders
*  Eliminating, or possibly dashing, the taper line that divides shoulders from RTOLs will make it clear that bicyclists may enter, or merge with a RTOL when exiting a shoulder that is disappearing. The Group noted that, unlike some other options, this required no changes in the MUTCD or special experimental process in order to implement.
2) A FHWA-approved experiment on a "Combined Bike Lane/RTOL"
*  Although not as straightforward as option 1, the Working Group strongly favored something more intuitively obvious to encourage motorists and bicyclists to perform safer merging movements. This is especially urgent given the high speeds that are typical of motorized vehicles entering RTOLs on Delaware arterial roads.
The Working Group noted that Missouri had proposed, and received approval from the Federal Highway Administration (FHWA) for, an experiment on a "Combined Bike Lane/Right Turn Only Lane" treatment and agreed that DelDOT should prepare a similar Request To Experiment for the FHWA. Funding for the experiment will be required and the Working Group agreed to work in tandem with DelDOT to identify it.
In summary, the meeting went exceptionally well. A path forward has been established, and we sincerely thank Mark, along with Donald Weber (Chief Traffic Engineer) for their commitment in this matter. This is a historic opportunity for us to work together and address a major safety problem that, until now, has received scant national attention outside the urban environment.
But then, isn't that what it means to be the First State?