Despite the heavy rain and limited parking close by, the Delaware Nature Society's First Annual Earth Day Festival on April 16 still attracted plenty of folks from around the tri-state region. It was a prime opportunity for Bike Delaware to bring bicycling to the environmental movement, and network with dozens of other organizations who share a common interest in reducing car dependence.
Also paying a visit on the day was our own Senator Tom Carper, one of the most environmentally friendly congressmen ever to serve in Delaware. Tom entertained the crowd with personal stories, some of Delaware's environmental history, and how Russell Peterson was a dedicated environmentalist and the guiding force behind the Coastal Zone Act of 1972. This act protected Delaware's inland bays and waterways by banning heavy industry from a two-mile-wide strip of Delaware's 115 mile coastline, about 20% of the state. The major consequence of the Act was preventing Shell from building a $200m oil refinery. This piece of legislation has since been used by other states to protect their shorelines.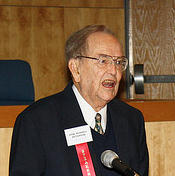 For those of you who don't know, Russell Peterson (right) served as Governor of Delaware as a member of the Republican Party. An influential environmentalist, he served as chairman of the Council on Environmental Quality and president of the National Audubon Society. When he died last month, Governor Markell was one of many who praised his legacy.
A tip of the helmet to John Harrod and his PR team, who poured tons of time and effort into event advertising. Had the conditions been warm and sunny, the event would have been held outdoors as originally planned, but such days in early Spring can be difficult to come by.
View more event photos on Shutterfly HERE.