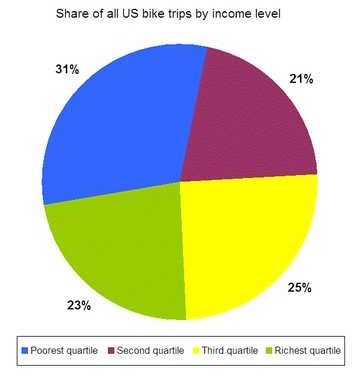 Cross posted from Sightline Daily
If you're reading this blog then the phrase "interesting demographic data" probably doesn't sound like an oxymoron to you. That's a good thing because you'll find a heap of it in a new analytical report out on bicycling. Among other things, we get a clearer view of the race and income components of US bicycling.
Two big things stand out: 1) white people remain somewhat over-represented; but 2) bicycling appears to be trending toward racial parity. As of 2009, roughly 21 percent of all bike trips in the US were made by people of color, and it looks as though US cyclists may soon look pretty darn similar to the nation as a whole.
Contrary to popular convention, the biggest share of bicyclists isn't yuppies, it's low income people. In fact, the lowest-earning quarter of Americans make nearly one-third of all bike trips.
Full article, including more charts and data HERE.