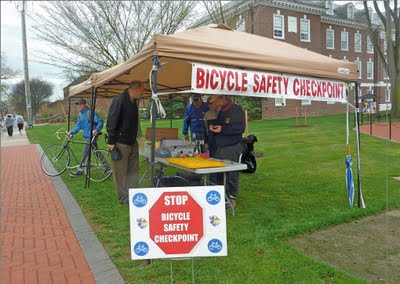 Another fabulous outing by our friends in DelDOT and DBC, in conjunction with the City of Newark. In the words of Heather Dunigan of WILMACPO:

"This spring's Bicycle Safety Checkpoints were a big success, despite beginning on a rainy day. April 12 and 20 Checkpoints were sponsored by DelDOT and the Newark Bicycle Committee in partnership with University of Delaware Public Safety and the City of Newark. During the two days, approximately 70 bike lights were installed, 10 helmets distributed, and 13 bike registered by UD Public Safety"

"Huge thanks to all the volunteers and for DelDOT's help in setting this up, supplying the giveaways and helping to make bicycling safer in Newark!"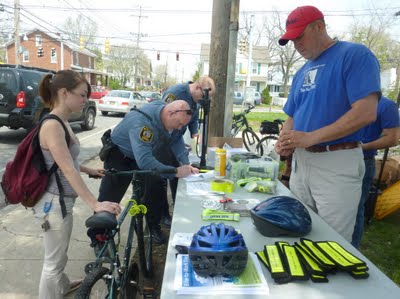 DelDOT Bicycle Coordinator Anthony Aglio, assistant Dan LaCombe (hidden), and the Newark Police in action, above.
On-line photos available HERE.