By Bev Zimmermann, Volunteer Coordinator
At just over a month away, close to 400 volunteers will be needed to cover the 3 days of cycling and events at the Wilmington Grand Prix on May 20- 22. This includes course marshals all 3 days, help with setting up and breaking down, and volunteers for the street festival on Saturday. Click here to go straight to the volunteer sign-up page on the official website. Please feel free to pass this along to friends, family and coworkers that may be interested in being a part of this great event.
The event has grown bigger than ever this year. Besides the races in downtown Wilmington on Saturday, there will also be road races Sunday morning between Wilmington and Dover. Please help support this major biking event by volunteering to help out. There are a variety of needs on Friday, Saturday and Sunday, so check your calendar and sign up using the link above.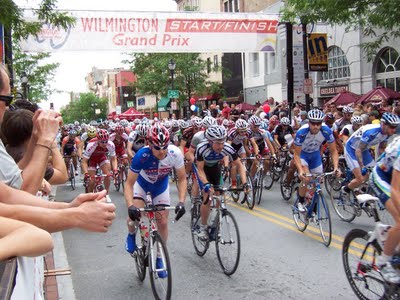 A scene from the 2010 Grand Prix.