The Dutch have been dealing with the right-turn only lane problem by re-designing their intersections. But what if that is not a practical option? What if, in practice, all you have at your disposal to make intersections with right-turn only lanes safer for bicyclists is a bucket of paint?
Delaware is grappling with this question. And recently a Bike Delaware-sponsored Bike Lane Working Group identified two options, the second of which would be a Federal Highway Administration – approved experiment on a combined "pocket" bike lane / right-turn lane. Currently, there is one such approved experiment in the U.S. It is being undertaken by the city of Columbia, Missouri: 
Click on image to expand (+)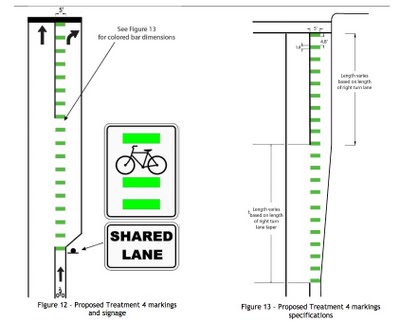 Columbia's combination bike lane / right-turn lane is part of a larger experiment that they are undertaking on colored pavement.
Can Delaware do an experiment that uses green colored pavement, too? If we can't, what should we do instead?