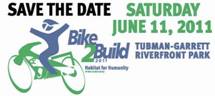 The goal of Bike to Build 2011 is to harness the biking energy of our community to fight substandard housing in New Castle County. The goal is to raise $250,000 so that Habitat for Humanity can build homes in the Mill Stone neighborhood for local two families. There are three ride options offered, a 15 mile family ride, a 25 mile ride and a 50 mile ride. All three length rides will take you through the Wilmington Greenways, with the longer rides continuing through a scenic tour of the Brandywine Valley.
Riders can register by clicking on the Register tab on HERE. Registration is $40 per rider. Riders are required to raise a minimum of $150 per rider. You can also volunteer on the day, sponsor someone else, or help with event logistics.
Please visit the event webpage HERE for full details.