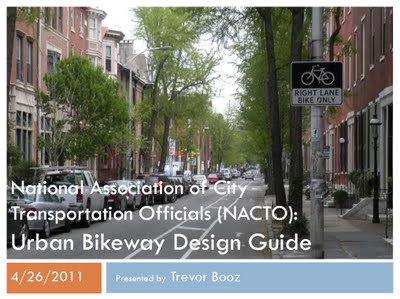 See Trevor's blog post on the NACTO Design Guide HERE.

Bike Delaware's own Trevor Booz put together this superb presentation on the National Association of City Transportation Officials
(NACTO)
Urban Bikeway Design Guide, released last month at the National Bike Summit. Unfortunately for us, but to the great benefit of the Bicycle Coalition of Greater Philadelphia, we will be losing Trevor when he relocates in under 2 weeks from now.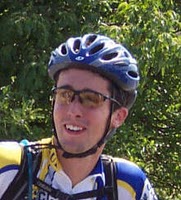 Trevor was a huge asset to Bike Delaware. His contributions included on-road experience at meetings and workshops, participating in committee assignments, and writing position statements and power point presentations such as this one. Those in his age group with such a high level of interest in advocacy are very rare indeed, and he will surely be missed.
From all of us at Bike Delaware, we wish him the greatest of luck in his new Endeavors.