Bike Delaware has been working overtime to develop a tool for sharing Right Turn-Only Lanes (RTOLs) with bike lanes. As Delaware cyclists are all too familiar, shoulders (and even newly installed bike lanes) are routinely cut off by solid white taper lines beginning at RTOLs or left turn bypass lanes. As stated in the USDOT's Manual of Uniform Traffic Control Devices:
*  A SOLID line usually indicates that crossing the line is discouraged. [MUTCD Section 3A.01] Edgelines are SOLID lines [MUTCD Section 3B.06], and a lane line is a SOLID WHITE line in portions of a road where lane changing across the line is discouraged. [MUTCD Section 3B.04]
Therefore, riding down any shouldered road and constantly crossing solid white lines is not what's expected of a vehicle by Delaware code, which bicycles are defined as, and could have legal implications. That said, a top priority for this kind of facility is correctly striping it, especially where the bike lane or shoulder meets a RTOL or bypass. We are advocating that this be included in all new bike lane installations and retrofit projects. Below are some examples of what we envision: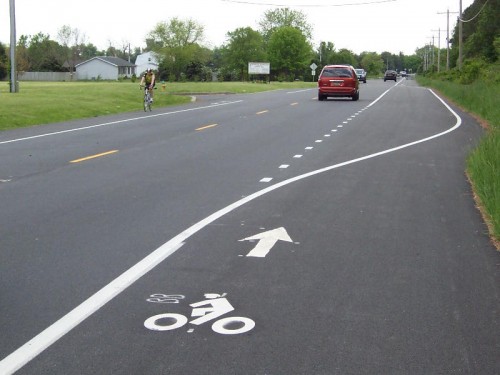 A) Red Lion Road (Rt.71) en-route to Lums Pond. Newly installed bike lane is cut off by a left turn bypass lane.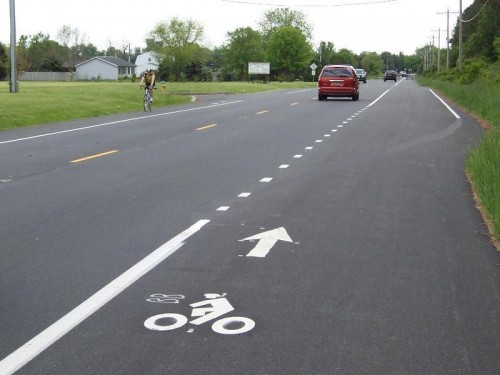 B) Same road with taper line removed, providing for a safer, continuous, legally acceptable facility. The dashed line still indicates cars may enter the shoulder as a bypass.
C) RTOL on Marrows Road in Newark with taper line electronically removed. The simple addition of symbols would validate this shoulder as a well marked bike facility.
If DelDOT is unwilling, or unable to grant removal of taper lines, dashing them would also validate entering the RTOL (albeit suggesting a merge) as a continuous shoulder. A broken white line means that you can cross it. A solid white line means you shouldn't cross it. Further: A BROKEN (dashed) WHITE line indicates that it is permissible to cross the line to change lanes to move into an adjacent lane moving in the same direction. A complete description of road striping, and what it all means can be found HERE.