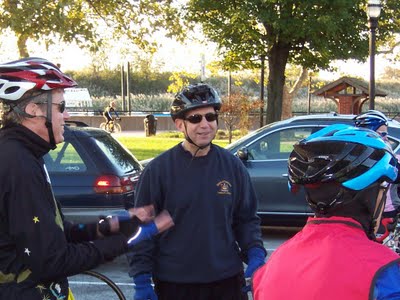 By Ed Weirauch — Here's a great opportunity to show your support for biking to our top government official: DE Governor Jack Markell. On Sunday morning, May 22, Gov. Markell will lead a ride from the Grand Opera House in Wilmington out to Methodist House near Winterthur on Rt.52 and back.
You may already know that Gov. Markell has led a number of rides over the last few years and if you have participated, you know that he's very accessible. You can strike up a conversation, express your support for more bike lanes and other factors that are making our state increasingly bike-friendly. Later, you can brag to your friends who live in other (bigger) states, "hey, I rode with the Governor…"
In fact, having fun is your primary motivation, what better way than a bike ride with a police escort? Seriously, we'll be led by at least one police car while busy intersections will be patrolled. It's like being in a parade without your friends and neighbors standing along the sidelines gawking at you.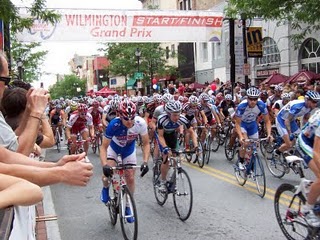 Go to "Register for ING Direct Governor's Ride" and sign up today. Day-of registration opens at 9am and the ride begins at 10 am at the Wilmington Grand Prix Start/Finish line on Market Street (pictured left) between 8th and 9th Streets. This event is part of the May 20-22 Wilmington Grand Prix which includes a time trial up Monkey Hill in Brandywine Park, circuit races Saturday afternoon in downtown Wilmington and a distance race from the Grand Opera House in downtown Wilmington to Dover Air Force Base and back.

In addition, all kinds of volunteer opportunities are available each day. And as a guy who may do too much volunteering in general, I'll tell you that working a bike race has to be one of the easiest experiences I've had! If you can help out, please sign up HERE.