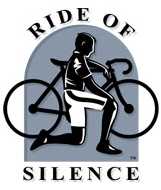 Note: The Newark event was canceled due to inclement weather.
On May 18, 2011 at 7:00 PM, the Ride of Silence will begin in North America and roll across the globe. Cyclists will take to the roads in a silent procession to honor cyclists who have been killed or injured while cycling on public roadways. Although cyclists have a legal right to share the road with motorists, the motoring public often isn't aware of these rights, and sometimes not aware of the cyclists themselves.
Lewes
Contact: Bobbi Dunham. This will be the 7th year for the Ride of Silence in Lewes, DE sponsored by the Sussexcyclists Bicycle Club. We are a small area but generally have approximately 40-45 participants. We are escorted by two state policeman from our local barracks.
Newark
Contact: Ted Ryser. Distance: 10 miles. Meet at Atlas Moving Co., 900 Interchange Blvd, Newark, DE. Be there by 6:45PM, ride will start promptly at 7PM. Ted will lead group along James Hall Trail and down Main Street Newark back to the school. More info: www.whiteclaybicycleclub.org.
More information, including ride leader contact information HERE.