Philadelphia is in full gear of a two-wheeled revolution. Bikers will be able to ride in less fear of getting hit by cars as more Center City bike lanes will be painted this June. The trial run of the south lanes on 10th street, north on 13th street and East/West on Fairmount Avenue will be assessed at the end of 2011. May is National Bike Month, Bike to Work day is May 20th and the annual Ride of Silence is May 18th, in honor of those who have fallen to the force of cars.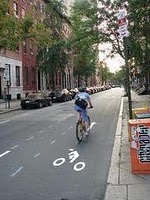 They talk about the rules of the road with ALEX DOTY, Executive Director of the Bicycle Coalition of Greater Philadelphia. The Coalition has released a report today including how Philadelphia, per capita, has twice as many commuters as any other big U.S. city. DR. GIRIDHAR MALLYA, Director of Policy and Planning for the Philadelphia Department of Public Health, will join us to discuss the impact of bicycling on the reduction of obesity and diabetes. And RINA CUTLER, Deputy Mayor for Transportation and Utilities for the City of Philadelphia will describe how the Pine and Spruce bike lanes have affected traffic and give her projections for the new painted lanes.
Listen to the show with Marty Moss-Coane HERE.