By Mike Tyler — May is National Bike Month in the United States and the City of Lewes will be joining cities and towns all over the country when car lovers ditch their four-wheeled gas guzzlers for two-wheeled transportation machines of a cleaner variety.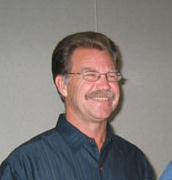 Mayor James Ford (left) proclaimed May 16-20 as Bike to Work Week in Lewes and urged citizens to use their bicycles to go to work or school, to run errands and leave their cars in the garage. Mayor Ford also invites cyclists to join him Friday morning May 20 on National Bike to Work Day. Cyclists are asked to begin the ride at 9:45 a.m. from the mayor's home at 910 Savannah Road and ride into Lewes with him as he cycles to City Hall on East Third Street. Helmets are required. "We've been working on becoming certified by the League of American Bicyclists as a 'Bicycle Friendly Community,'" he said, "and this is one important effort to show the city's support for using bicycles in the First Town in the First State."
He also said that he supports cycling because of its many benefits. He echoed the goals of the League of American Bicyclists and listed why cycling is important not only to fulfill the city's desire to be named bicycle friendly but for several key reasons:
1. It's better for the environment. Autos are the single largest source of air pollution in the U.S. More bicycles on the road means a smaller carbon footprint. Most car trips occur only a few miles from the driver's point of origin. When bicycling is substituted for short auto trips, 3.6 pounds of pollutants per mile are not emitted into the atmosphere.
2. It's better for your health. More than 66 percent of the adult US population is overweight and 32 percent of the U.S. is obese, costing our nation $68 billion in health care and personal costs annually. Many children are driven to school in cars or buses, and one child out of every four is overweight. Medical research has well established the fact that a minimum of 30 minutes of moderate physical activity three days a week can reduce incidents of heart disease, obesity, diabetes, and hypertension and improve mental health and cardiovascular fitness.
3. It's better for your wallet. If the real taxpayer subsidy of autos were reflected in fuel taxes, a gallon of gasoline might cost as much as $9. That's because other taxes cover the costs of road building, maintenance, parking space, police services and losses from accidents, pollution and congestion. If more commuters bicycled, these costs would go down. Bicycle commuting saves on parking fees, parking tickets, fuel costs, auto maintenance costs and transit fares.
He also pointed out that the city continues to make improvements for cyclists and pedestrians with bike racks, signage and crosswalks. A tip of the helmet to Mayor Ford and the City of Lewes for great leadership toward good health and sustainability.