Signs of improvement continue in Complete Streets awareness and implementation, this time on Kirkwood Highway just east of the Harmony Road intersection, where DelDOT is going forward with closing the median at Upper Pike Creek Road. Large flourescent orange "Share the Road" signs were put in place to maximize bicycle safety between here and Green Valley, as evidenced in the photo below. It's another indication that DelDOT is putting their best foot forward, this time accommodating all road users through a construction zone.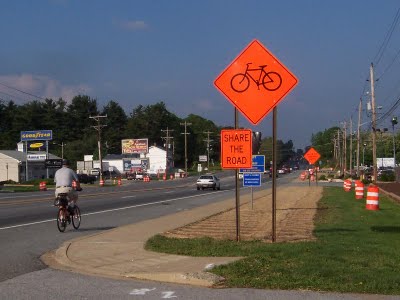 Bike Delaware asks DelDOT if they might consider the same treatment for the Elkton Road Reconstruction Project, between Casho Mill Road and Delaware Avenue in Newark (below). Our switchboard has been lighting up daily with University of Delaware students, who feel they cannot ride across town now that the project has narrowed the road to a single lane, and they no longer feel safe with drivers angry or impatient behind them. The treatment above, as intended, would communicate to drivers the message that bikes are expected, and to give them a break and pass when safe. The City of Newark might also consider signing a detour route along the SE side of Elkton Road, which can be done with plenty of access points to Elkton Road.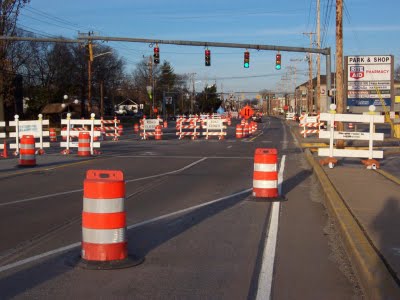 A tip of the helmet to DelDOT, for taking another positive step in the true spirit of Complete Streets.