By Doug Tynan, Director of Program Development & Implementation, Nemours Health & Prevention Services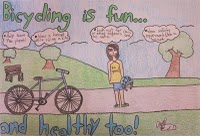 Saris Cycling Group Poster Contest
Saris Cycling Group held a poster contest encouraging fifth grade students to think about ways bicycles benefit their community. They were asked to create original artwork displaying the theme, "Bicycling is fun… and healthy too!" One winner was selected from each school and submitted to the state level contest. NHPS was the coordinator for the state of Delaware. Each state then sent a winning poster to the national contest, and voting is now open to the public!
Delaware's winner was a 5th grader from Gallaher Elementary. The school went above and beyond the contest requirements and used the contest as a great educational opportunity. They kicked the contest off with a Bicycle Safety assembly, and all 110 poster submissions are displayed throughout the school!
You can help us make Delaware the National Winner by voting now for poster #7. The National Winner will receive a trip for two to Washington D.C. for the 2012 National Bike Summit. Voting will close at noon (CST) on Wednesday, May 18th. The winner will be announced the on Friday, May 20th. Please share this with all of your friends. GO DELAWARE! Vote HERE.
————————————-
Celebrating Katie's Birthday: Steve's Ride for Nemours
Nemours Senior Vice President Steve Sparks is going to ride unsupported from Jacksonville to Wilmington as a fund raiser in honor of his daughter's 21st birthday. At the age of 3 she was diagnosed and treated for leukemia and AI duPont Hospital here and this is Steve's way of giving back.

This is not an appeal for donations, though it is certainly welcome. Steve is looking to round up folks who are interested in riding with him during the last leg of his tour. He is currently working on the itinerary. Steve's goal is to raise $100,000 or more for the Nemours Hematology/Oncology Division. He's raised nearly $80,000 so far.
Follow Steve's adventure and see photos from his trip on his blog.