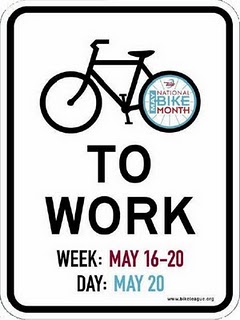 3 Delaware Cities this year are sponsoring National Bike to Work Day events on Friday, May 20. Whether your normal route takes you past or near one of them, or you've been looking for an excuse to give bike commuting a whirl, this is your chance! Details as follows:
Lewes: Begin at 9:45 a.m. from the home of Mayor James Ford at 910 Savannah Road (Map) and ride into Lewes with him as he cycles to City Hall on East Third Street. Helmets are required. "We've been working on becoming certified by the League of American Bicyclists as a 'Bicycle Friendly Community," he said, "and this is one important effort to show the city's support for using bicycles in the First Town in the First State."
Newark: Corner of Delaware Ave and South College Ave (Map) on the University of Delaware campus from 7:30-8:00 a.m. The event will be a time for commuters to get some exercise while giving the atmosphere and their budgets a break. Light refreshments will be served, and it'll be a great opportunity to meet other bicycle commuters while showing support for bicycling in Newark and in Delaware. Planned speakers include Tom Apple (University of Delaware Provost), Cleon Cauley (Interim Delaware Secretary of Transportation), and Newark Mayor Vance Funk.
Wilmington: Takes place at The Bike Boutique, in the Nemours Building at 11th & Orange Streets (Map). Includes refreshments, healthy snacks, and warm fellowship from 7:30am – 9:00 a.m. That same day, everyone is also invited to an after work party starting at 4:00 pm at Brandywine Park's Monkey Hill (intersection of North Van Buren Street & Stadium Drive) where we will enjoy a great barbecue and watch the Wilmington Grand Prix time trials. For more information about the Wilmington Grand Prix, please visit www.wilmgrandprix.com.
Don't miss the fun! Join one of these events and leave the car home.
If your town or city would like to participate next year, email Heather Dunigan of Wilmapco at: hdunigan@wilmapco.org