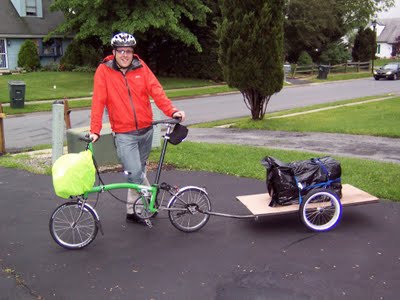 By Bob Ruddy — I decided to build my own trailer for several reasons. First the ones out there I liked cost more than I wanted to spend. Second I thought it would be fun. Third I could make it anyway I wanted.
My first attempt was a simple plywood platform with 8″ wheels under the platform (left). I used this mainly for hauling recycling to the recycle center and for taking my single speed mountain bike to the trail head. This trailer was heavy and it was easy to tip.
Learning from this I wanted larger tires and I wanted the platform at axle level to lower the weight. I used thin walled steel and some parts from burley to build the trailer pictured at top.
So far I've been using this for about 8 weeks. I've hauled up to 240lbs of concrete mix on here for 1 mile from Home Depot. That was too much.

I would say the max comfortable weight limit is roughly 125lb. The problem with more weight is the rubber burley connection. It feels loose when it gets too heavy.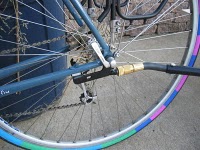 At 16 lbs, the trailer corners very well. So far no tipping. This is 8lb lighter than the old trailer, but I have more work to-do. Now that I know I'm happy with the design. I need to fabricate fenders, clean up the welds, paint it, create tie down points and create an easy way to attach two plastic containers. These additional things will cost about another $25 or less.
I figure about 6 hours of work into it. Probably another 10 hours to go.
Materials:
* $12 Flex Connector from Burley
* $100 16″ Alloy Wheels from Burley
Total $197.
Visit Bob's Corybantic website
HERE
.