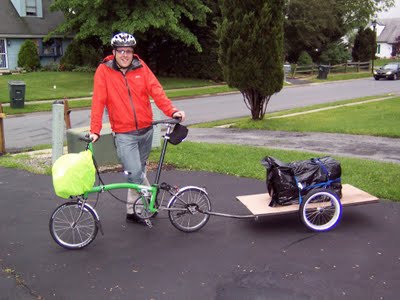 By Bob Ruddy — I decided to build my own trailer for several reasons. First the ones out there I liked cost more than I wanted to spend. Second I thought it would be fun. Third I could make it anyway I wanted.
Learning from this I wanted larger tires and I wanted the platform at axle level to lower the weight. I used thin walled steel and some parts from burley to build the trailer pictured at top.
So far I've been using this for about 8 weeks. I've hauled up to 240lbs of concrete mix on here for 1 mile from Home Depot. That was too much. 🙂 I would say the max comfortable weight limit is roughly 125lb. The problem with more weight is the rubber burley connection. It feels loose when it gets too heavy.
I figure about 6 hours of work into it. Probably another 10 hours to go.
Materials:
* $12 Flex Connector from Burley
* $100 16″ Alloy Wheels from Burley