From Streetsblog — Friday May 20 is National Bike to Work Day, and if you're looking for a little motivation to get on your bicycle, meet Lucette Gilbert. Lucette says she is in her "very late 70s" and biking since she was 7 years old. So, by my calculations, she has been riding a bike for some 70 years! She became a bike commuter in New York City during the 1980 transit strike and currently rides everywhere, including her daily trip to work from the Upper East Side to Union Square. Lucette's take on the state of bicycling in NYC: "People are not used to bicycles, but it's so heartwarming to see how many people are biking now."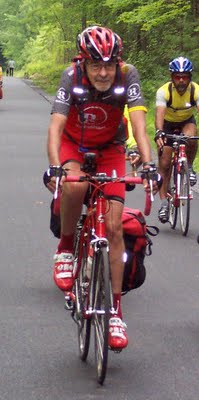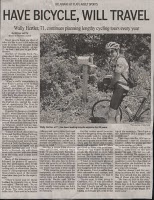 White Clay Bicycle Club's own Wally Hertler of Chadds Ford, PA, will be 78 this year. Wally has been leading club rides and tours since 1976, and consistently rides over 10,000 miles a year. The article to the right was published in the Wilmington News Journal in 2005, and describes his seemingly endless contribution to bicycle touring and recreational riding throughout the tri-state area.
Wally also commuted by bike before retiring from the DuPont Experimental Station, and is viewed as a living legend – or "The Legend of Harley Wertler" – by those who know and ride with him. The tour he is leading this yearis a 14 day, one-way ride home including the entire length of the Blue Ridge Parkway in mid-June. Go Wally!