The following (very polite) letter was published in the Wilmington News Journal:
Bicyclists on the road should move over a bit
I think it's a good thing that more people are riding bikes.
But why, with an 8-foot-wide shoulder, do you ride the white line as close to the travel lane as possible? I would think that for your safety and that of the motorist, you would move over.
– Bill Mellon, Newark
——-
It's a forgone conclusion that most bicyclists who ride to the left of the shoulder do so to avoid glass shards and other debris tossed from the windows of cars. Gravel is also a chronic problem, often the result of loosely secured dump trucks or other construction vehicles. These two, along with other sharps often fill the rightmost 3/4 of the shoulder, and motorists do not see it.
Letters to the editor, in response, can be emailed to: letters@delawareonline.com or use this on-line form. Make sure to include a full time phone number so they can verify you as the writer.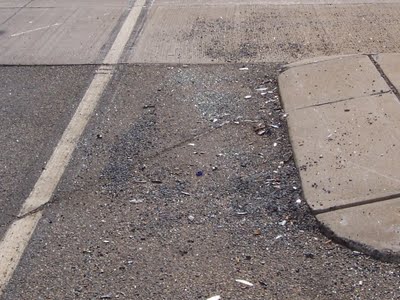 Debris, even cigarette butts fill the shoulders through intersections like this one, on Red Mill Road and Rt.273.