Senate resolution calls for more bike paths, walkways
By Kara Nuzback
Published May 24, 2011 in the Cape Gazette
DOVER — A handful of Sussex County legislators wants to use state funds to get Delawareans out of their cars and onto bike paths and walkways. On May 12, state legislators passed a resolution to improve the health of their constituents and reduce transportation costs by asking Delaware Department of Transportation to fund a network of walkways and bike paths within and between towns in Delaware.
Senate Concurrent Resolution 13, written by Sen. Robert Venables, D-Laurel, passed unanimously through the Senate and passed by voice vote in the House. Seven of the sponsors represent Sussex County, including Venables.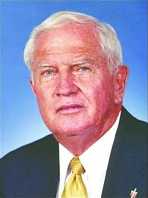 "I'm a bicyclist myself," Venables said. He said the resolution promotes exercise, safety and recreation in Delaware. Venables said he was approached by bicycle enthusiasts and became concerned about the safety of his constituents when he heard residents were biking from Laurel to Seaford for work.
According to the resolution, rising fuel costs will add to the importance of safe, cost-effective travel. The resolution says promoting nonmotorized forms of transportation will also reduce Delaware's dependence on foreign oil.