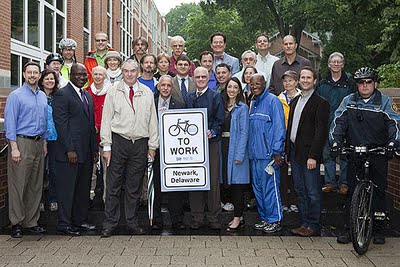 UD Daily — On Friday, May 20, at 7:30 a.m. the rain gave way long enough to bring together more than 20 cyclists to celebrate a National Bike-to-Work Day event organized by the Newark Bicycle Committee and hosted by the University of Delaware Cycling Club on the Trabant University Center patio.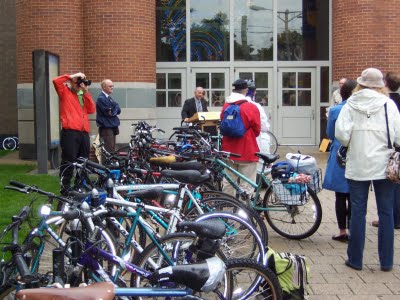 UD Provost Tom Apple, above center (podium), greeted everyone on behalf of the University. "To see the benefits of cycling, one just has to look at the crowd here today," Apple said. "Everyone here is very fit! Overall, I hope that we can get more energy and focus on making this whole area more bike-friendly. It is my hope that we can convince our politicians to make all of our roads more bike-friendly." He also mentioned that activity like employees biking to work is part of an overall vision for sustainability that supports the University's Path to Prominence.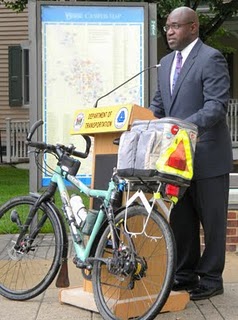 Cleon L. Cauley, Jr., Delaware's acting secretary of transportation (left), then addressed the participants by assuring them that "DelDOT is committed to continuing our efforts to make Delaware more bicycle-friendly."

Cauley explained why alternative transportation is an important aspect of Delaware's transportation system. "First, we do it to save lives," Cauley said. "Last year, there were 158 car-bicycle accidents, 90 of which were in New Castle County. Three of those crashes were fatal. Twenty-one percent of those crashes involved children younger than 15 years old. Ninety-six percent of bike-car accidents result in an injury. Most of us can remember at least one news story within the past year of a person on a bike who was struck by a car and killed."

Having cited these statistics, Cauley added, "Like most of you, I find those numbers unacceptable."

Cauley drew applause for DelDOT's efforts on behalf of bicyclists. [Read on…]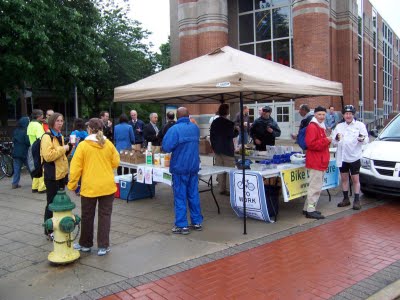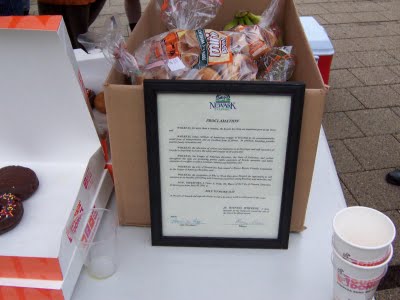 The most coveted prize of all, the city's official Bike to Work Day Proclamation, sits prominently alongside a box of donuts.
A huge round of kudos goes out to everyone involved in making this event the huge success that it was, despite the weather!