The importance of safe non-motorized connections cannot be stressed enough. Some newer developments and commercial centers are beginning to include them with better land use practices, but the vast majority – what's already built – is often times isolated and inaccessible except on narrow car entrance lanes. You can usually tell them by their "goat paths":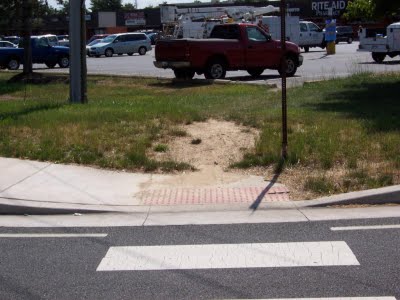 The Omega Shopping Center in Ogletown sports 2 entrances; 1 at each end and far from each other. Both are narrow car lanes with no pedestrian or bicycle access. Here, enough feet and tires appear to have taken care of it, at least in a makeshift fashion.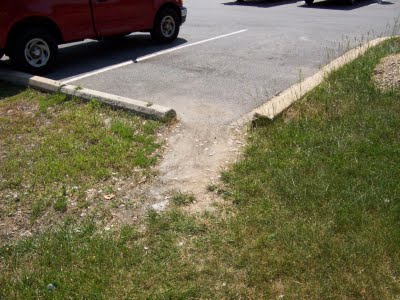 The classic way to circumvent clogged car-only entrances; take the first curb cut. A closer up reveals hundreds of tire tracks tattooed in the dry mud..
The Route 72 MUP south of Newark. 8 feet wide going on 4 feet. Nature is taking over and eventually, we'll be riding and walking on grass.
But then, if we can't even fund pave and rehab for existing pathways and connections, how will we ever begin to "retrofit" these places and provide bicycle and pedestrian friendly access? Thankfully, Delaware's legislature passed the
"
Walkable Bikeable Delaware
"
resolution unanimously, in both chambers. Let's hope 'facilities' like these become a thing of the past, in favor of true
"bikeway networks that everyone can use to get where they want to go on a bike"
– someday.