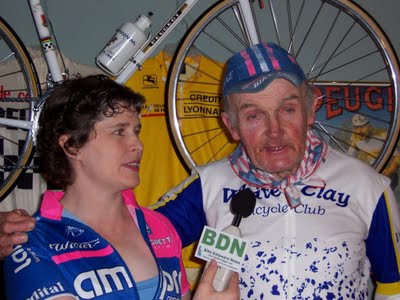 Bike Delaware News
recently caught up with the man everyone in the tri-state area knows as Iron Man Jim Eads. Special reporter Rachel Anderson, famous in her own right as
Delaware Today's top model
, landed the interview. Here are several notable excerpts:
Rachel: When did you get your first bike?
Jim: On Friday, Sept. 14, 1945 when I was 9 years old. It was a balloon tire bike.
Rachel: Over your lifetime, what do you feel is your "crowning achievement" on the bike?
Jim:
Winning the Pennsylvania Road Race Championship on Sunday, June 29, 1969, and winning the Governor's Award for riding over 20,000 miles in one year.
Rachel: What was your hardest ride ever?
Jim:
The "24 Hour Record" on Columbus Day, 1973. I couldn't stay awake, and almost crashed – repeatedly. I came in 4th place.
Rachel: How many times have you been hit by a car or truck, and what were the injuries?
Jim: 6. They were:
Oct. 26, 1972 – Broken collar bone
July 22, 1974 – Lacerations, road rash, 3 broken ribs, 50 stitches
July 19, 1987 – Bruised shoulder
Nov. 11, 1995 – Bruised knee
March 4, 2005 – 8 broken ribs, smashed left arm requiring titanium rod
April 10, 2010 – Broken neck requiring steel plates and screws
Rachel: What are some of your fondest moments riding in Delaware?
Jim: Completing the Delaware Double [Century] 13 times, as well as the Rehoboth Twin Centuries.
Rachel: You are planning to ride the entire Blue Ridge Parkway and Skyline Drive, and then home starting in less than a week. When was the first time you rode the Blue Ridge Parkway?
Jim:
August, 1977. I rode the Parkway to Cherokee and then over Newfound Gap to Knoxville, TN planning to take the train home. But, it turned out that there had been no passenger train service in Knoxville for several years. So I went to the bus terminal, but they wouldn't transport my bike unless it was boxed. So, I phoned a bike shop a few miles away and asked them for a box. The shop was closing, but left a box outside for me. To get the box from the bike shop to the bus depot, I placed one end of the box on my rear rack, and held the other end over my head and rode through town. I had to stop every few blocks to rest my arm. Eventually I made it to the bus depot and was able to take the bus back to Philadelphia.
Rachel: What was your most recent experience on the Blue Ridge Parkway?
Jim: In 2008 I was riding north on the Parkway and stopped at Big Meadows for lunch. After lunch I picked up some snacks to take along at the adjoining gift shop. I tried to pay for the snack and the lunch at the same cash register, but the cashier wouldn't let me pay for the lunch at that register. The register at the lunch counter had a long line, so I just threw the lunch bill on the floor and left. As I was descending the next hill, two police cars chased after me and stopped me. One car took me back to Big Meadows to pay the bill while the other car stayed with my bike. Then I was brought back to my bike and given some cookies and sent on my way.
Jim, through the years ~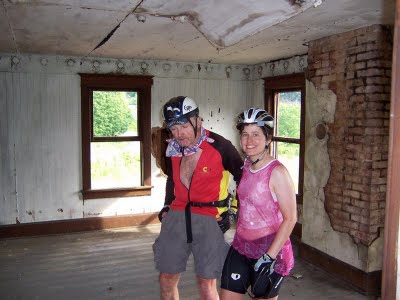 Rachel spends time at home with Jim on the Tour of West Virginia in 2008.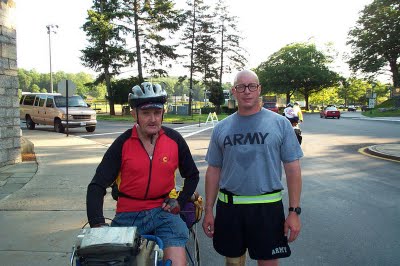 2002: Jim takes on the role of General, and commanded 4 battalions of light infantry at the Battle of West Point. He later went on to lead the Bicycle Corps against fierce resistance on Storm King Mountain. Casualties were light.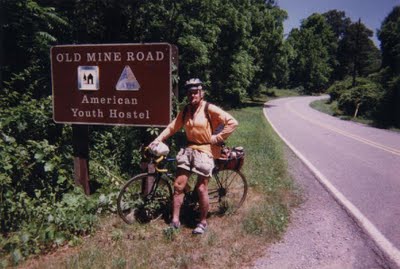 On his final day of the Tour of New England in June, 1999. Jim takes time for a photo op along Old Mine Road, in NJ's Delaware Water Gap National Recreation Area.