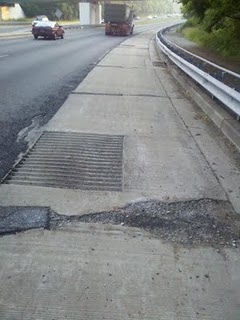 Several DuPont employees have told Bike Delaware that conditions along the Route 141 shoulder from Barley Mill to the Tyler McConnell Bridge have become hazardous for bike commuters who must use it. According to Mario Nappa, "it's almost enough to make me not want to ride to work, as I don't have a lot of options without adding a boat load of miles."
Bike Delaware asks that DelDOT please tend to this issue asap, and perform necessary repairs to enable safe passage on the shoulder of Rt.141 in this area.
On line maintenance notifications have been submitted but more are welcome. Use this simple on-line form so DelDOT crews can be alerted of the problem.