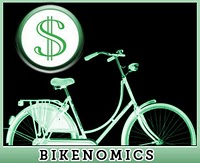 Bike-friendly cities, off-road paths, and scenic country roads where cyclists can spin along in comfort aren't just good for the people who live in those places. They also attract tourists. And tourists mean money for the local economy.
Tourism is one of the U.S.'s largest industries and biggest employers, creating millions of jobs and bringing in hundreds of billions of dollars each year (not to mention the tax benefits).
Bicycle touring has long had an honored place in the tourism economy and culture. This doesn't go unrecognized: In Wisconsin, bike tourism is estimated to contribute $1.5 billion to the state's economy every year.
It's not just about paths or trails, though the measurable impacts these facilities have on local economies are a big deal. Bicycle transportation may not yet be mainstream in the U.S., but recreational bicycling is. More people ride bikes than ski, and more bikes than cars are bought here every year — presumably for the purpose of family rides along the riverside trail and the like.
For communities looking to up the ante, in adventure or economic development, there are many enticing opportunities for bicycle touring beyond a short jaunt on the rail trail . . .
Read entire article HERE.
Both the Lewes-Georgetown Route and the Wilmington-New Castle Route projects have strong support from local tourism officials. Tourism at Delaware's beaches in Sussex County is already a $1B industry in Delaware. A safe bicycle route from Lewes-Georgetown would probably be worth 10s of millions of dollars in new tourism dollars every year to Sussex. And a Wilmington-New Castle route could be the missing piece that finally brings a national park to Delaware.