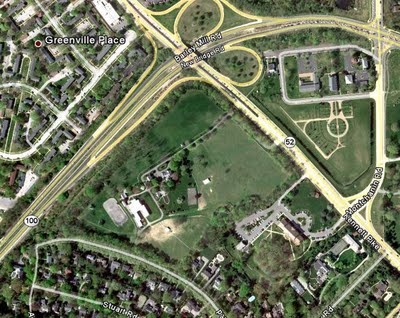 Planning board votes against Stoltz
Wilmington News Journal
— The New Castle County Planning Board voted to recommend denial of a rezoning requested by a Pennsylvania developer that is needed to build a large shopping center at the Barley Mill Plaza office complex in Greenville.
While the county Land Use Department voted to recommend the plan to County Council on Tuesday night, the planning board's decision, in a 5-2 vote with two members abstaining, shows that the project isn't guaranteed to be approved by County Council when it votes in October. [Full article]
Bike Delaware's Executive Director James Wilson sent the following letter on June 10:
Dear Chairman Singer and Members of the Planning Board,
In his introduction to the County's 2007 Comprehensive Plan, County Executive Chris Coons wrote that "[o]ur 2007 Comprehensive Development Plan envisions a future for New Castle County that more closely reflects the county many of us experienced as children: a place where children grow up and play in safety, where neighbors know each other and feel connected, and where schools, stores, community centers and houses of worship are accessible to many on foot or by bicycle, as well as by car or transit."
We were astonished at the unsupported claim by the representative of the Stoltz group at Tuesday's Planning Board hearing (June 7) that their request for a rezoning of Barley Mill Plaza to Commercial Regional is consistent with the County's Comprehensive Plan. County Executive Coons' point about pedestrian and bicyclist accessibility comes at the very beginning of that document (4th paragraph in Section I). It is a central goal of the Comprehensive Plan. Commercial Regional zoning is not consistent with either pedestrian or bicyclist accessibility. Indeed, far from up-zoning parcels to Commercial Regional, the County should instead be vigilantly attempting the opposite: looking for opportunities to down-zone parcels from Commercial Regional to zoning that is more consistent with the goals of the Comprehensive Plan and the desires of County residents.
We urge you to reject the application of the developer for Commercial Regional re-zoning of (part of) the Barley Mill Plaza parcel because of its inconsistency with the County's Comprehensive Plan.
Sincerely,
James Wilson
Executive Director
BIKE DELAWARE