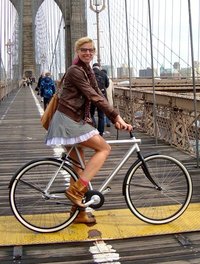 15% of Delaware Commuter Bicyclists are Women

OK, so it's not in quite in the same category as "
driving while black
", but it's nonetheless irritating to hear this
story
about a Dutch visitor (photo right) getting warned by NYC police that she is a traffic hazard….because she's wearing a skirt.
We're pretty sure that this is not what the League of American Bicyclists has in mind when it talks about
enforcemen
t
. (Streetsblog's earlier story on the incident was titled "

Saudi Arabia on the Hudson

.")
What makes this misogyny particularly inept is that bicycling in the U.S. has a gigantic problem: most utility bicycle users are men. According to the Census Bureau, for example, only

1 in 7
(~ 15%) of commuter bicycle users in Delaware were women during 2006-2008.
The problem is not unique to Delaware. In fact, this pattern is characteristic of bicycling in the United States. The

Association of Pedestrian and Bicycle Professionals

conducted an online survey of women and bicyclists to try to gain greater insight into the disparity. You can read the analysis of the survey

HERE

.