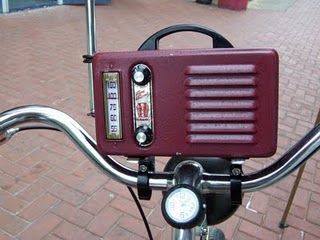 A "Tom Thumb" Bike Radio mounted on the handlebars of Felix Cartagena's Trek Cruiser!
Felix replaced the innards (tubes) in favor of a small media player which can play hundreds of songs, while still maintaining use of the front end controls.
Felix is a regular MacGyver when it comes to bikes and balloons, and was an active events coordinator and volunteer with the White Clay Bicycle club for a number of years.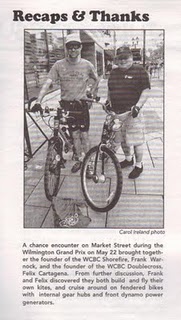 Felix founded the Delaware Double Cross (coming up this July 4th weekend) and can usually be seen cruising around at events such as the Wilmington Grand Prix and Newark Night. The latter he was a huge help in getting Bike Delaware's tent and promotion table set up out front of the Galleria on Main Street on June 4th.
In addition to bicycling, Felix loves making bubbles, and flying kites. He is quoted in his "Bubble Manifesto" as saying "I see bubble making as performance art, but as one step removed. It is not the making of the bubbles but the bubbles themselves that is the performance."
"By creating the apparatus that makes the bubbles, there is no artist per se… the machine and the vagaries of the wind create the art." Visit his website, which includes a biography HERE.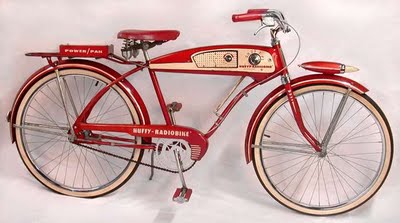 Above: The legendary "balloon tire" Huffy Radio Bike. Could this be what Felix had in mind?