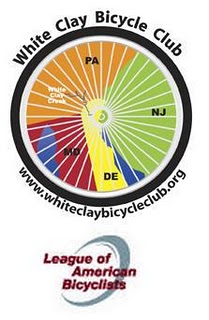 July 6
is the deadline to register for the LAB bike commuter course on the evening of Thursday July 14 at the Bellevue Corporate Center. Don't forget to sign up!
3 hour League of American Bicyclists (LAB) course:
Classroom Instruction and night ride. Will include route selection, bicycle safety, clothing, how to carry gear, etc.
WHERE: Bellevue Corporate Center, Bldg. 200, Suite 250
(Ameriprise Financial)
WHEN: Thursday, July 14, 2011, 6:00 – 9:00 PM (come at 5:30 PM with dinner, get acquainted, sign in, etc.)
Registration deadline: July 6th.
COST: $20.00 per participant. Payable when signing in on July 14th.
PRESENTERS: John & Cecilia McCormick, Paul Hess
– WCBC (White Clay Bicycle Club) Members
– LCI (League Cycling Instructors)
View the course flyer in pdf
HERE
. Hope to see you there!